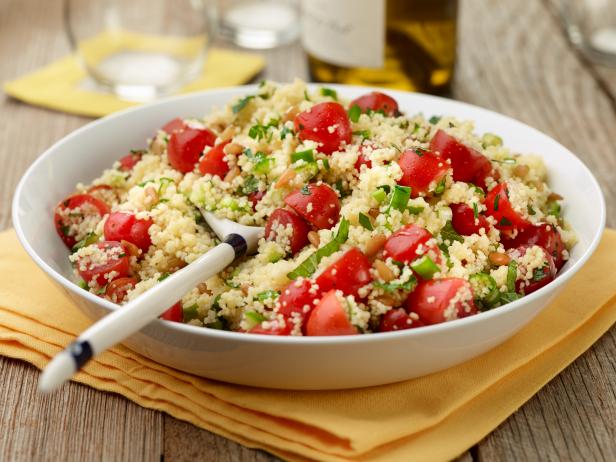 Ingredients
3 cups (about 1 1/2 pints) cherry or grape tomatoes, halved
2 kirby cucumbers, seeded, and diced
1 lemon, juiced
3 teaspoons kosher salt
1 1/2 cups instant couscous (a 10-ounce box)
2 cups water
2 wide strips lemon zest
1/4 cup extra-virgin olive oil
Pinch cayenne
1/2 cup torn mint leaves, stems saved
1/2 cup roughly chopped flat leaf parsley, stems saved
3 scallions (white and green), chopped
1/2 cup toasted pine nuts, optional
Directions
Toss the tomatoes, cucumbers, and lemon juice in a bowl with 2 teaspoons of the salt. Set aside.
Put the couscous into a large bowl. Bring the water, lemon zest, 3 tablespoons of the oil, the remaining salt, cayenne, and herb stems to a boil over high heat. Pour the liquid over the couscous, stir to separate any clumps. Cover with a lid, plate, or plastic wrap, set aside for 5 minutes. Remove the zest and herb stems and fluff with a fork.
Add the tomato mixture, scallions, mint, parsley, and pine nuts. Drizzle the remaining oil over the salad, toss and serve.
Curried Couscous Salad
Ingredients
Cauliflower:
Vegetable oil cooking spray
1 medium head cauliflower, trimmed and cut into 1/2 to 1-inch pieces
1/4 cup extra-virgin olive oil
Kosher salt and freshly ground black pepper
Salad:
2 cups low-sodium chicken broth
1 1/2 tablespoons mild curry powder (recommended: Spice Islands)
1/2 teaspoon salt
1 (10-ounce box) couscous
3/4 cup dried cranberries
1/2 cup coarsely chopped, roasted and lightly salted cashews
1 (4-inch) piece cucumber, peeled, seeded and chopped into 1/2-inch pieces
1/3 cup chopped fresh flat-leaf parsley
1 large lemon, zested
Dressing:
1/3 cup Greek yogurt
1/4 cup extra-virgin olive oil
1 1/2 teaspoons mild curry powder (recommended: Spice Islands)
2 tablespoons fresh lemon juice
salt and freshly ground black pepper
Directions
Cauliflower: Put an oven rack in the center of the oven. Preheat the oven to 400 degrees F. Spray a baking sheet liberally with vegetable oil cooking spray. Set aside.
In a medium bowl, toss the cauliflower and olive oil together until coated. Put in a single layer on the prepared baking sheet and season with salt and pepper, to taste. Roast until golden and tender, about 25 to 30 minutes. Set aside to cool for 10 minutes.
Salad: In a medium saucepan, bring the chicken broth, curry powder and salt to a boil over medium-high heat. Remove the pan from the heat and stir in the couscous. Cover the pot and allow the couscous to absorb the liquid, about 5 to 7 minutes. Fluff the couscous with a fork and transfer it to a large serving bowl. Stir in the cooked cauliflower, cranberries, cashews, cucumber, parsley, and lemon zest. Refrigerate until ready to serve.
Dressing: In a small bowl, whisk together the yogurt, olive oil and curry powder until smooth. Whisk in the lemon juice and season with salt and pepper, to taste.
Just before serving, add the dressing to the salad and toss well to coat.
Couscous, Basil n Feta Salad
Ingredients
100g couscous
200ml hot low salt vegetable stock (from a cube is fine)
2 spring onions
1 red pepper
½ cucumber
50g feta cheese, cubed
2 tbsp basil pesto
2 tbsp toasted pine nut

Method

Tip couscous into a large bowl, pour over stock. Cover, then leave for 10 mins, until fluffy and all the stock has been absorbed. Meanwhile, slice the onions and pepper and dice the cucumber. Add these to the couscous, fork through pesto, crumble in feta, then sprinkle over pine nuts to serve.