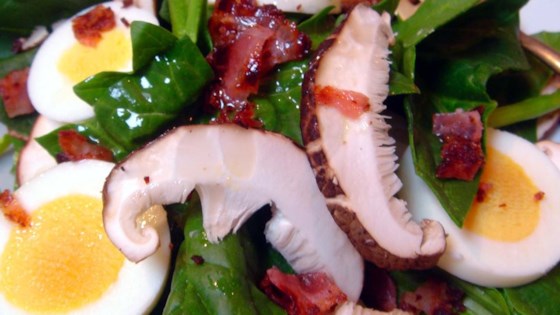 Spinach and Marinated Mushroom Salad
2 eggs
2 teaspoons white sugar
2 tablespoons cider vinegar
2 tablespoons water
1/2 teaspoon salt
1 pound spinach
1/4 pound fresh mushrooms, sliced
Place eggs in a saucepan and cover completely with cold water. Bring water to a boil. Cover, remove from heat, and let eggs stand in hot water for 10 to 12 minutes. Remove from hot water, cool, peel and cut in wedges.
Return 2 tablespoons bacon fat to skillet, stir in sugar, vinegar, water and salt. Keep warm.
Wash and remove stems from spinach, dry thoroughly and break into pieces in salad bowl. Pour warm dressing over and toss until coated.
Top salad with mushrooms and garnish with egg.
Spinach, Kale, Quinoa Salad
2/3 cup quinoa
1 1/3 cups water
1 bunch kale, torn into bite-sized pieces
1/2 avocado - peeled, pitted, and diced
1/2 cup chopped cucumber
1/3 cup chopped red bell pepper
2 tablespoons chopped red onion
1 tablespoon crumbled feta cheese
Dressing
1/4 cup olive oil
2 tablespoons lemon juice
1 1/2 tablespoons Dijon mustard
3/4 teaspoon sea salt
1/4 teaspoon ground black pepper
Bring the quinoa and 1 1/3 cup water to a boil in a saucepan. Reduce heat to medium-low, cover, and simmer until the quinoa is tender, and the water has been absorbed, about 15 to 20 minutes. Set aside to cool.
Place kale in a steamer basket over 1 inch of boiling water in a saucepan. Cover saucepan with a lid and steam kale until hot, about 45 seconds; transfer to a large plate. Top kale with quinoa, avocado, cucumber, bell pepper, red onion, and feta cheese.
Whisk olive oil, lemon juice, Dijon mustard, sea salt, and black pepper together in a bowl until the oil emulsifies into the dressing; pour over the salad.