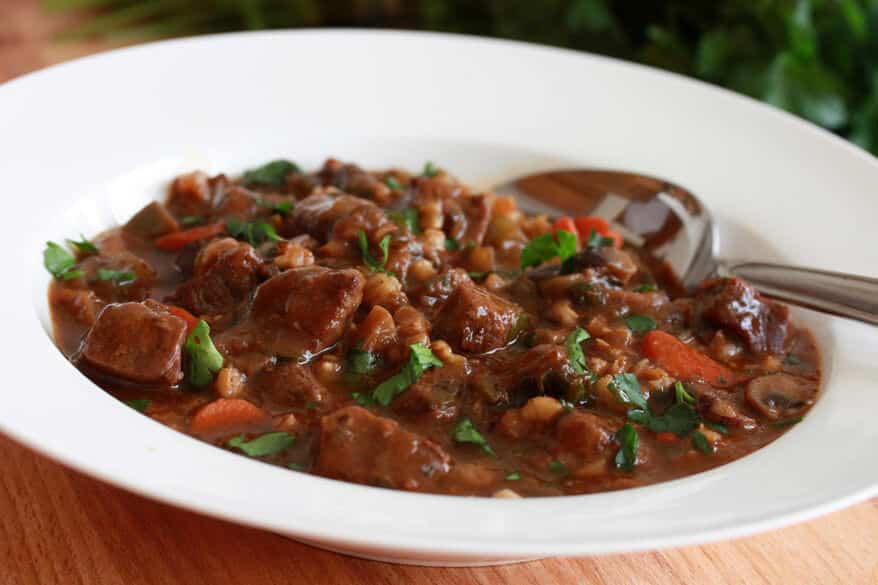 Such great comfort food for cold weather. I've been wanting to post a recipe for it for a while now and was given a convenient excuse to finally do so.
1 Kg beef shank
Salt and ground black pepper to taste
1 tablespoon vegetable oil
1 punnet mushrooms
1 large onion, diced
4 cloves garlic, minced
Small tin tomato paste
3 cups beef broth
1 cup red wine
2/3 cup diced celery
2/3 cup diced carrots
1 bay leaf
1/4 teaspoon dried rosemary and/or thyme
1/2 cup pearl barley
1 tablespoon chopped fresh parsley, or to taste
Heat vegetable oil in a large pot over high heat. Cook beef in hot oil until browned on both sides, about 10 minutes. Transfer beef to a plate.
Reduce heat to medium, and stir onion into the same pot with a pinch of salt. Cook and stir until onion is soft and translucent, 4 to 5 minutes. Stir garlic into onion; cook and stir until fragrant, about 1 minute.
Stir tomato paste into onion mixture; cook and stir until tomato paste is brick red, 2 to 3 minutes. Pour wine and broth into onion mixture. Add celery, carrots, bay leaf, and rosemary. Return beef with any accumulated juices to pot; push beef down to cover with cooking liquid.
Bring broth mixture to a simmer, reduce heat to low, cover the pot, and cook until beef is fork-tender, 2 to 3 hours. Transfer beef to a bowl.
Add mushroom and barley into cooking liquid, bring to a simmer, and cook until barley is tender, about 45 minutes. Return beef to pot, cover the pot, and cook until heated through, about 10 minutes. Season with salt. Ladle stew into bowls and garnish with parsley and horseradish.