How to make your own basic Poke Bowl
1. Choose a base: Brown rice, coconut jasmine rice, white sushi rice, soba noodles, or leafy greens

2. Choose a protein: The foundation of poke is best-quality fresh raw fish. Cut the fillet lengthwise, working against the grain, into ½" strips. Then cut the strips crosswise into ½" pieces. If you can't get stellar fish, tofu or cooked shrimp are good alts. We like ahi tuna, fluke, hamachi, salmon, tofu, or shrimp.

3. Choose a dressing: The fattier and firmer the fish, the more aggressive the dressing can be. Delicately flavored fish, like fluke, should be dressed simply. Ponzu, shoyu, gochujang, and spicy black bean paste are great bases to work with.

4. Add the fun stuff: Hit at least three of these categories to achieve textural contrast, depth, and balance.
Fresh Fruits & Veg: Sliced avocado, bean sprouts, shelled edamame, or shaved radish
Nuts, Seeds & Spices: Macadamia nuts, skin-on roasted peanuts, toasted sesame seeds, shichimi togarashi, or gochugaru
A Dose of Heat: Crushed wasabi peas, grated Serrano chiles, red Fresno chiles (thinly sliced), or Jalapeños (thinly sliced)
Alliums: Scallions (thinly sliced), sweet onion (finely chopped), garlic chips, or fried shallots
Pickles: Pickled ginger, shiitake mushrooms, red onions, or cucumber
Salmon & Avocado Poke Bowl
I
Ingredients - 4 servings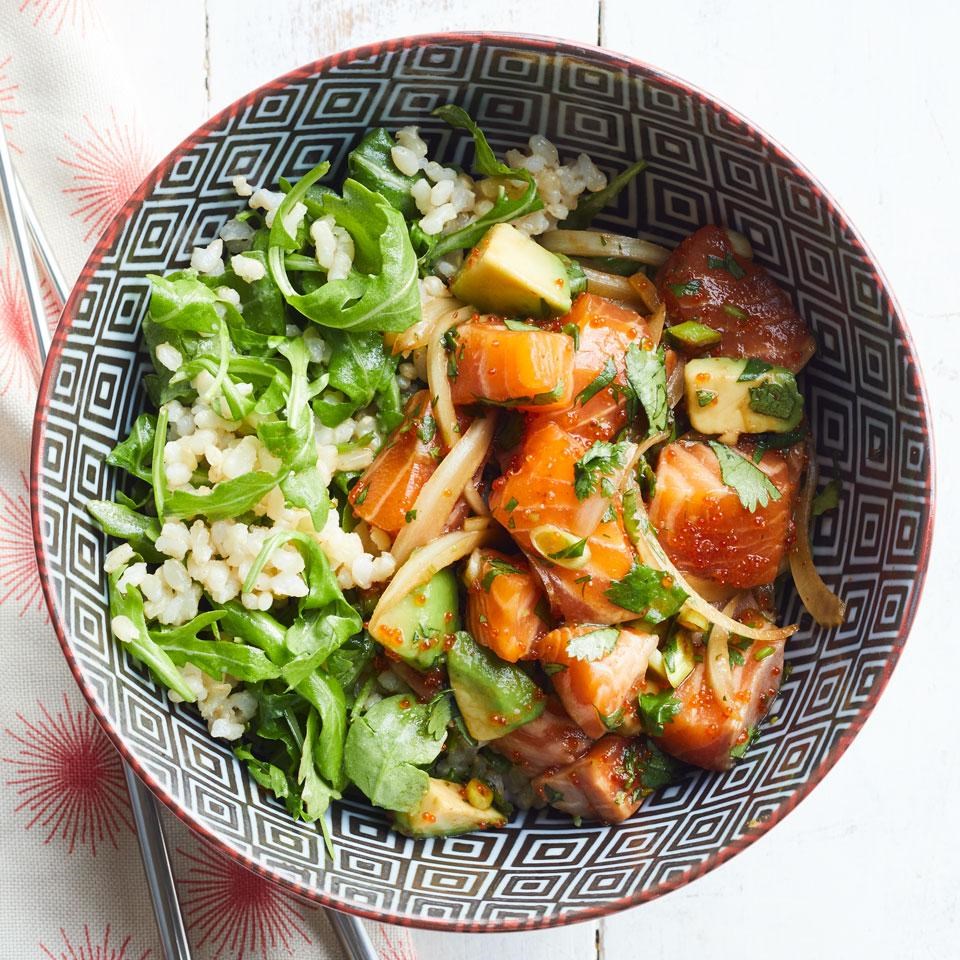 Poke
1 pound previously frozen wild salmon, skinned and cut into ¾-inch cubes
1 medium ripe avocado, diced
½ cup thinly sliced yellow onion
½ cup thinly sliced scallion greens
½ cup chopped fresh cilantro
¼ cup tobiko (flying fish roe) or other caviar
3 tablespoons reduced-sodium tamari
2 teaspoons toasted (dark) sesame oil
½ teaspoon Sriracha
Brown Rice Salad
2 cups cooked short-grain brown rice, warmed
2 cups packed spicy greens, such as arugula, watercress or mizuna
2 tablespoons rice vinegar
2 tablespoons extra-virgin olive oil
Bertolli Olive Oil Extra Virgin
Buy 1 Get 1 FreeThru 07/25
1 tablespoon Chinese-style or Dijon mustard
Preparation
Gently combine salmon, avocado, onion, scallion greens, cilantro, tobiko (or caviar), tamari, sesame oil and Sriracha in a medium bowl.
Combine rice and greens in a large bowl. Whisk vinegar, oil and mustard in a small bowl. Add to the rice salad and mix well. Serve the poke on the rice salad.
Serves 2
2 teaspoons low-sodium soy sauce (or 1 teaspoon tamari, if gluten-free)
1 teaspoon sesame oil
2 tablespoon orange juice
1-inch piece of ginger, peeled and grated or minced
2 5-ounce cans tuna in brine, drained
Small handful of cilantro, chopped
1 scallion, finely chopped
1 cup cooked rice or other grain, cooled
1/4 medium avocado, cubed
4 cherry tomatoes, quartered
1 tablespoon sesame seeds
Place the soy sauce, sesame oil, orange juice and ginger in a jar. Secure the lid and shake well until the dressing is emulsified. (Or whisk together in a small bowl.)
Empty the drained tuna into a small bowl and pour the dressing over top. Add in the scallion and cilantro then toss to coat well. Divide the rice between two bowls and top with the dressed tuna, avocado, tomatoes and sesame seeds.
Tofu Poke Bowl -
Follow basic Poke recipe at top of this blog and use Tofu for the protein part.